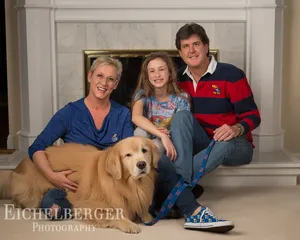 MT Heartland Handpiece Express is located in Lawrence, KS. Go Jayhawks! We are serving Kansas, Missouri, Arkansas, Oklahoma and beyond, via our website. MT Heartland Handpiece Express is owned and operated by Michael and Toni Martin. We are dedicated to providing top notch repairs with unmatched customer care and service. We are committed to providing dental professionals with a locally based, high quality, alternative to corporate handpiece repair.
Michael joined the dental industry, trained and became a certified Midwest® Technician under the successful guidance of Glenn Williams, who started Handpiece Express in 1994. Glenn is one of the founding members of the National Dental Handpiece Repair Association. He has successfully repaired more than 80,000 handpieces for hundreds of satisfied dentists.

White Shirted Handpiece Express Allies representing fourteen states where
Handpiece Express technicians are in business, who earned the Midwest Certification.
MT Heartland Handpiece Express is a family owned and operated business that repairs all brands of high-speed and low-speed, and electric handpieces. We provide fast personalized handpiece repair service to dentists throughout the Midwest Region. Everyone at MT Handpiece Express is dedicated to the concept of convenient, cheerful service with rapid turnaround on high-speeds.
Thank you for visiting the MT Heartland Handpiece Express website. Michael and Toni Martin and the whole team appreciate the opportunity to earn your business!